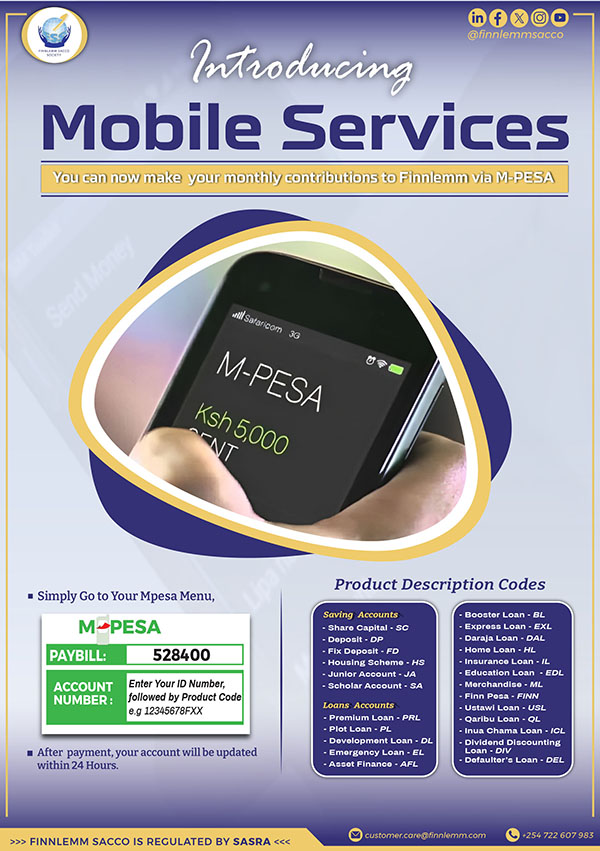 M-Pesa Paybill Instructions
You can now make your monthly contribution to Finnlemm through your phone all you need to do is to follow these simple instructions. Payments to Finnlemm via M-PESA can only be made by registered M-PESA Members:
You need to be an M-PESA registered customer as the service is available for Mpesa registered users only.
Ensure you have sufficient funds in your M-PESA account to cover the amount you are paying and the relevant charges. See table on charges
Go to M-PESA on your phone Menu
Select Payment Services
Select Pay Bill
Enter the business number 528400
Account Number: Enter your National ID number,
followed by the code e.g 12345678FXX see below codes.
Enter the amount you wish to pay
Enter your M-PESA PIN
Confirm details are correct and press OK
You will receive a confirmation from Safaricom once the transaction is complete.
Your account will be updated within 24 Hours.
Transaction/Product Description
Saving Accounts
-Share Capital-SC
- Deposit-DP
– Fix Deposit-FD
– Housing Scheme-HS
– Junior Account-JA
– Scholar Account-SA
Loans Accounts
– Premium Loan-PRL
– Plot Loan-PL
-Development Loan -DL
– Emergency Loan-EL
-Asset Finance -AFL
– Booster Loan-BL
– Express Loan-EXL
– Daraja Loan -DAL
– Home Loan-HL
– Insurance Loan – IL
– Education Loan  -EDL
– Merchandise-ML
-Finn Pesa-FINN
-Ustawi Loan-USL
-Qaribu Loan-QL
-Inua Chama Loan-ICL
-Dividend Discounting Loan-DIV
-Defaulter's Loan-DEL
The following charges are applicable:
Join us to start your saving journey